Testimonials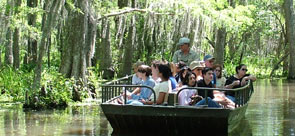 See the sights of Honey Island Swamp! Look at it's beautiful scenery and inhabitants by viewing our gallery of photos. more >
Photo Gallery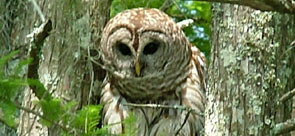 See the sights of Honey Island Swamp! Look at it's beautiful scenery and inhabitants by viewing our gallery of photos .more >
What's New
Getting ready for October an the cooler weather cannot come soon enough, wildlife has been out in full force we have been seeing e…more >
Welcome to Honey Island Swamp Tours! Journey into this pristine wilderness with our native guides.
Picture the moss hanging on gnarled cypress trees as you travel into one of the wildest and most pristine river swamps in America. With the swamp tales of pirates and sightings of Big Foot in the back of your mind, you may be just a little bit nervous at first, but after your first boat ride you'll want to go back again and again! You'll be overcome by the primitive beauty of the cypress trees rising from the water...the sweet smell of wild azaleas in the air....
Honey Island Swamp is unique because it's one of the least-altered river swamps in the country. It's pretty much in its original condition, almost a pristine wilderness. Take a personalized narrated nature tour into the 250-square-mile Honey Island Swamp. Nearly 70,000 acres of it is a permanently-protected wildlife area--the Nature Conservancy's First Louisiana Nature Preserve. People from all over the world now explore this wildlife sanctuary with him.
Call (985) 641-1769 or (504) 242-5877 for Reservations between 8 am - 8 pm
For After Hours requests - please complete this form and we will attempt to call you to make your booking.
Reservations required.